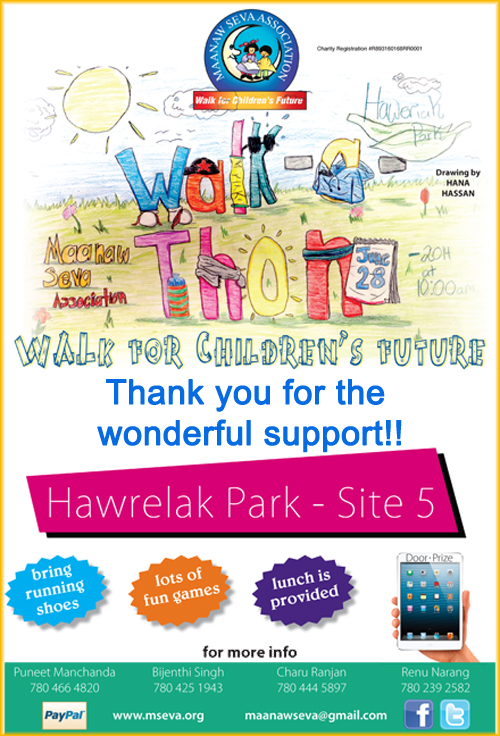 The Maanaw Seva Association is a registered charitable society run by dedicated volunteers.
We were founded in Edmonton, Alberta, Canada in 1991 by members of the local South Asian community.

The Hindi phrase 'Maanaw Seva' means in service of mankind .

Our purpose is to provide service in several main directions, including:

1) promoting public health through educational and informative presentations

2) helping the underprivileged in Canada and overseas

3) fostering greater understanding of the cultures that originated on the Indian subcontinent


For further information on the association and it's worthy projects please Contact:
Rohit Desai at 780 431 0377 (shobhna.rohit@shaw.ca) or Jivan Kayande 403 720 3377 (jivan.kayande@gmail.com).

Donations to the Maanaw Seva Association are appreciated. A tax-deductible receipt will be provided for amounts over $10.





Or you may make cheques payable to:
Maanaw Seva Association
#31, 882 Ryan Place
Edmonton, Alberta
Canada T6R 2K9




Filmmaker enthusiastic about charity school in India from Chelmick Creative Inc on Vimeo.

Filmmaker Bob Chelmick enthuses about a 'free education' school in the village of Atsalia, UP, India. The school is supported by Canadians through the Maanaw Seva Association charity in Edmonton, Alberta. Bob saw first hand how education is changing the lives of hundreds of village children - changing their family's prospects for generations to come. The school was founded by Edmonton Hindu priest Pandit Shiv Shankar Dwivedi, who grew up in Atsalia, before joining an ashram. Inspiring and heart-warming is Bob's description of how a little Canadian charity is doing big things in village India.